8 Questions With 'The Goldbergs' Star Wendi McLendon-Covey: Emmy Contender Quickie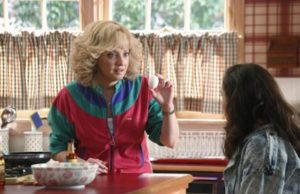 The ABC comedy's actress has become a household and critical favorite in just one season
Set in the '80's, Wendi McLendon-Covey plays Beverly Goldberg on ABC's "The Goldbergs." The comical family sitcom is based on creator, Adam F. Goldberg's, own family life.
McLendon-Covey plays an overprotective, overbearing mother in the loud, crazy, loving family. McLendon-Covey has mastered the role and become a household favorite, already earning a Critics Choice TV nomination.
1) What was the toughest thing you had to do this season?
The toughest thing I had to do was get through the final scene of the season without sobbing. The last thing we filmed before they wrapped the whole show was a big family affair — the whole cast was in it and I had to run in and tell my husband (Jeff Garlin) that someone had broken his high school free-throw record. At that point we didn't know if we were going to get a second season, so all I could think of was, "What if I never get to see these faces again?!" When I watch it now, I cringe because my voice sounded stuffy and my eyes were all puffed up.
2) What was the most fun thing you had to do this season?
Honestly, the whole season has been pure joy. But one of my favorite things was having to tackle my son Barry (Troy Gentile) and pin him to the ground at his first wrestling match because he went against my wishes and joined the wrestling team in the first place. While I'm struggling to keep him down there, I had to deliver a speech about why I was thoroughly humiliating him for his own safety.
3) Let's assume that somebody has never seen your show. What would you say to persuade them to watch it?
I would tell them that our show is like a mix between "The Wonder Years" and "Malcolm in the Middle." If they enjoy things that are funny, nostalgic, and relatable, they should definitely tune in. But if they like things that are boring and unfunny, they should watch something else.
4) You're an Emmy voter. You can't vote for yourself or your show. Who's at the top of your ballot?
First of all, they should just throw an Emmy parade for "Orange Is the New Black," they deserve it. Every cast member and writer on that show deserves to be recognized. I'm also totally in love with "Veep,""Louie,""Portlandia," "Broad City," and "Nurse Jackie."
5) If you could play any other role on any other show, what would it be?
Like every other actress in the business, I'd love to play an inmate on "Orange is the New Black." But, I'd also like to do anything at all on "Veep" or "Boardwalk Empire." Anything, even a one-liner.
6) What was the last TV show you binge-watched? How many episodes did you see in a sitting?
I watched 4 episodes of "OITNB" in one sitting. That was a very unproductive day for me.
7) If you get nominated, what will you pick as your Emmy episode?
I would pick the episode where I teach my youngest son (Sean Giambrone) how to dance, and then show up to chaperone his first high school dance in an outfit identical to his. I get to watch my delicious baby boy have his first slow dance and it absolutely kills me.
8) Is this the Golden Age of Television?
Absolutely! With cable and all the alternative platforms raising the bar so high with the quality of shows they're putting out, and the fact that you can watch almost anything On-Demand now, I feel like it's a really exciting time to be in the television industry.