Sky Living Interview with Wendi McLendon-Covey
Rita was the fiercest Bridesmaid in the film.
So we jumped at the chance to chat to actress Wendi McLendon, who played her, about it.
She gave us the inside scoop on making Bridesmaids, and her secret snog with co-star Ellie Kemper.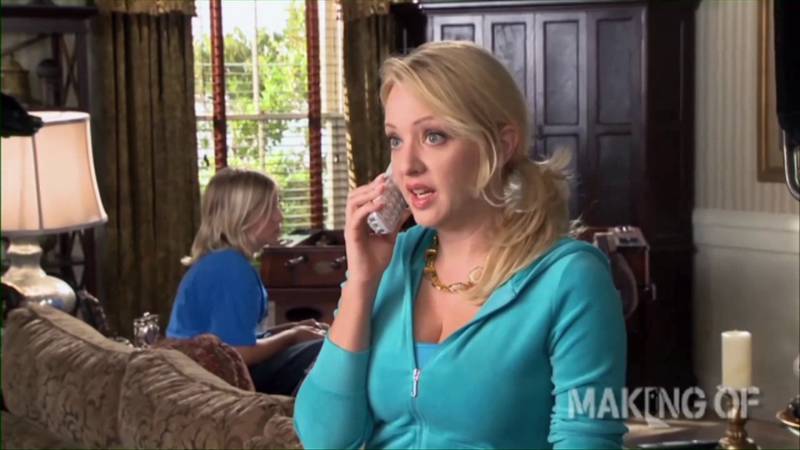 What was it like working with Kristen Wiig?
It was so gratifying to work with her because I've known her since we were broke students at the Groundling Theater in Los Angeles. And believe it or not, I met Melissa McCarthy, who plays Megan, and Maya Rudolph (Lilian) at a wedding shower 10 years ago. Isn't that wild? But Kristen really is a gem; obviously Bridesmaids was her starring vehicle, but she wanted to make sure that we all had our funny moments.
What do you think about the comparisons between Bridesmaids and The Hangover?
I certainly understand why the comparison was made, but I think our film had more in common with the movie Swingers (with Vince Vaughn and John Favreau). Bridesmaids was less about crazy girls going to Vegas than it was about how weddings can make you feel bad about yourself when you're not where you want to be in life.
Is it true that the part of Rita was written for you? How did that come about? 
Like I said, I met Kristen when we were students at the Groundlings, and that's also where I met Annie Mumolo (the co-writer). I love playing women like Rita who are spoiled but can't stop complaining; that's funny to me. I guess Kristen and Annie had seen me play enough of those types of characters, so they wrote the part with me in mind. I still had to audition for it several times; the part was never promised to me. But I'm glad I got the job!
Were you encouraged to improvise on set?
Yes! They really encouraged us to improv quite a bit, which I love to do because the dialogue always sounds so much more interesting that way. So we filmed every scene the scripted way, then we'd go back and film everything the improvised way. Whatever was funniest stayed in the film.
What was your favourite scene?
Defintely the one on the plane where Annie freaks out. Poor Kristen had to run up and down the aisle like a lunatic, and we got to sit comfortably in our seats and watch her! Also, having Ellie Kemper (who played Becca) throw up in my hair wasn't as unpleasant as I thought it was going to be.
Can you share some secrets about what happened in the deleted scenes? 
There was a luscious scene between my character and Ellie's character on the plane where we get more and more drunk and reveal more and more about our marriages.
It turns out that Becca and her new husband have never consummated their marriage and Rita's husband is so hopped up on Viagra that he won't leave her alone and, in spite of all her dirty talk, she really doesn't want to be touched.
Of course, that was a prelude to us making out, and after we do it, we're so weirded out by the whole thing that we can barely look at each other.
Wendi with the Bridesmaids wedding party
Have you ever been a Bridesmaid? What was the worst moment?
I've been a bridesmaid seven times and yes, I asked all those girls to be in my wedding! My worst moment was during a bridal shower at my house when the bridesmaid who'd offered to bring the food was two hours late, and the bridesmaid who was bringing the drinks was an hour late. And of course I couldn't get too bitchy about it because they were both cousins of the bride. When the food finally did arrive, I found the toddler of one of the women rubbing meatballs all over the wall.
What was your own wedding like?
I got married in 1996, and to save money we decided to have the wedding and reception all in the same place. We chose a beautiful historic building that's been used in lots of movies and TV shows. A few hours before our ceremony, something went wrong with a grid somewhere in California, and the electricity went out all over the state!
Some of our wedding guests were late because they couldn't get their garage doors open; bridesmaids showed up with wet hair; and the worst thing of all was that we had no air conditioning in the middle of August.
Eventually the power came back on and everything turned out fine. However, my husband and I never got a bite of our wedding cake, and a waitress dropped an entire tray of beer bottles on the dance floor during our first dance.
What happened on your hen night?
I begged my girls not to take me to a strip club so they just took me to dinner instead. They still made me wear a novelty bridal veil with flashing lights and a huge bird on the top. I looked like an idiot.
Which of the other Bridesmaids stars would you choose as you chief bridesmaid?
I would probably pick Kristen because that girl can throw a party, and she has exquisite taste.
Have you ever had food poisoning?
One time I got food poisoning so badly from eating bad Chinese food that I almost didn't make it to my final exams!