Wendi McLendon-Covey Talks BLENDED, Being Cast at the Last Minute, Her Chemistry with Drew Barrymore, and More Read
by Christina Radish

The family comedy Blended sees recently divorced single mom Lauren (Drew Barrymore) on a disastrous blind date with widowed single father Jim (Adam Sandler). When they each sign up separately for an adventurous family vacation at a luxurious African safari resort, they are brought back together, this time with Lauren's two sons (Kyle Red Silverstein, Braxton Beckham) and Jim's three daughters (Bella Thorne, Emma Fuhrmann, Alyvia Alyn Lynd).
At the film's press day, actress Wendi McLendon-Covey (who plays Lauren's outspoken best friend, Jen) spoke to Collider for this exclusive interview about being cast pretty late into the shoot, how much fun she had playing the instigator, how easy the chemistry was between her and Drew Barrymore, and how much improvisation she did. She also talked about how gratifying it is to be a part of the only ABC freshman comedy series that got picked up for Season 2, with The Goldbergs, and what she's most looking forward to with Season 2, as well as her experience working with the very funny cast of Think Like A Man Too, and that she's gotten to see the film and says it's funnier than the first one. Check out what she had to say after the jump.
Congratulations on being a part of the only ABC freshman comedy series that got picked up for Season 2!
WENDI McLENDON-COVEY: Thank you! What a difference a year makes, right? Last year, at Upfronts, we were like, "Thank god, they picked us up!"
Knowing how hard comedies have it on TV right now, what has the experience of The Goldbergs been like?
McLENDON-COVEY: It's gratifying because, at first, the stuff I would read about the show, I thought, "Don't just judge it by the pilot. Invest in it. Just watch another week." That's the thing. A lot of comedies are written off, after the first week. They're not given a chance to build. How do you get people to stay invested? But, I'm glad that people did stay invested. Word of mouth helped it along. We've got a good online presence. It's amazing how important that stuff is now.
Did the cast chemistry feel like it clicked, immediately?
McLENDON-COVEY: Not only did it click, right away, it had no choice but to click, right away. We didn't meet, as a cast, until our first day on set. They had a hard time casting Barry and Adam. But luckily, we did all fall in love with each other, right away. As the weeks went on, I really would miss them, on the weekends or when we would have a hiatus week. It was like, "I don't know what to do with myself, if I can't have Jeff [Garlin] come in and say whatever weird thing that he wants to say." I cried so hard when we ended our season. I thought I would never stop crying. But, I'm thrilled that we get to do it again.
Are there things that you're most looking forward to, with Season 2?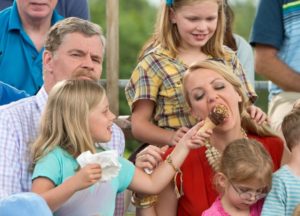 McLENDON-COVEY: Well, I know that Adam Goldberg has got plenty more embarrassing stories to tell about his family, and I'm looking forward to those. They just get more and more insane, but they're true. That's fun for me to play. I'm thrilled. I'm all set.
How did Blended come about?
McLENDON-COVEY: They had finished filming all of the Africa stuff. They were over there for a month and a half. And they came back and were setting up the production in Georgia, 'cause that's where we filmed everything else, and they remembered, "Oh, hey, we need to cast this part." They called me, I was available, and they made it work. I was starting The Goldbergs, 10 days later. They had to fly me back and forth a couple of times, so that I could do the TCAs and stuff. But, I didn't have to audition for it. They straight offered it to me. After I did my little happy dance, I thought, "What if I'm not any good?! This is Adam Sandler and Drew Barrymore. What if I don't click with them, or they don't like me, or it doesn't work? " I was freaking out thinking, "They're going to fly me to Georgia, and then fly me back home!" But, it worked. It was good.
But you're definitely no stranger to comedy yourself, so is that just actor self-doubt?
McLENDON-COVEY: Yeah, you just always feel like, "Oh, someone is going to figure out that I'm a fraud." But, it was a total joy to work with them. Adam acts like you're his long lost cousin. He's very welcoming. And Drew is, too. I lucked out because it isn't always like that.
Because you got cast so last-minute, was this already a fully-formed character?
McLENDON-COVEY: It was fully-formed. They knew what they wanted. I'm always happy to improvise or do whatever, and I did a little bit, but they didn't need it. They had a full vision of what they wanted her to be. We all have that best friend who's a little bit of an instigator and a little too honest. She's got your back, but sometimes you wish she wouldn't be so honest, all the time. It was a fun character to play.
Were you ever disappointed that you didn't get to go to Africa?
McLENDON-COVEY: You know, everybody has asked me that, and I didn't even think twice about it, until I saw the movie. And then, I thought, "That would have been fun! Couldn't they have put a dream sequence in there, where Jen shows up?" We'll wait until Blended 2, and then I'll make a big stink. Let's go to Paris and film Blended 2 or some other exotic place.
Did the chemistry between you and Drew Barrymore come very easily?
McLENDON-COVEY: She's such a sweet person that you like her immediately and you immediately want to defend her. Not that she needs defending, but you feel protective over her. That came very easily, luckily, because we literally had no time to spend together. The first scene we shot was us yelling at the dads in the stands at the game. Right away, people needed to buy that I had this girl's back and that she's my best friend. That's easy to do with her because she's such a sweetheart.
Your banter with Drew is so fun. Did you do much improvisation?
McLENDON-COVEY: When we were trading insults with the dads, yes. They gave us stuff to say, but we just kept going. We figured they'd shut us up when they didn't want anymore, but they let us keep going. And when Adam and I were trading insults in the kitchen, when he was trying to return her credit card, we improvised a lot. And in the closet scene where I was trying on all the clothes, we riffed on that a little bit. But quite honestly, we didn't need it. The script was all there. They had very definite Point A to Point B visions for us. It was nice of them to let us, and they did keep some of that in, but it was a good script, to begin with.
Are you like Jen, at all, with your own girlfriends? Do you encourage them to do things that you think are for their own good?
McLENDON-COVEY: Yes, but I also find that I turn into Oprah. I'm like, "Okay, if you do that, are you being true to yourself?" It's like, "Oh, my gosh, who am I?! What?! What am I saying?!" If someone talked to me like that, I would get up and walk away, but I do it. My sister is divorced and now dating, and I'm like, "Okay, well, you're going to have to ask yourself why you are settling for this, that and the other, when you should be up here." It's like, "What am I saying?!" I can't stop myself, sometimes. Who am I to give a life class? I need to just shut up and say, "Uh huh. Let's order nachos."
I was on the Las Vegas set of Think Like A Man Too, and you guys seemed to be having a ton of fun together.
McLENDON-COVEY: And while we were doing that, [Blended] was shooting in Africa, so I couldn't have gone. It was fun. I saw the movie recently and it's pretty funny. It's better than the first one.
Is it hard to find your place among a group of people like that, who have such big personalities?
McLENDON-COVEY: Oh, yeah! They have big personalities, and it was a sequel. And my character was just referred to, in a couple of throw-away sentences in the first one. So, to come in and try to establish something and make her watchable, and yet blend her into that, was a challenge. Working in Vegas, in general, is a challenge. But, I'm happy with how that turned out.