Wendi McLendon-Covey talks the perils of starring in an '80s-set comedy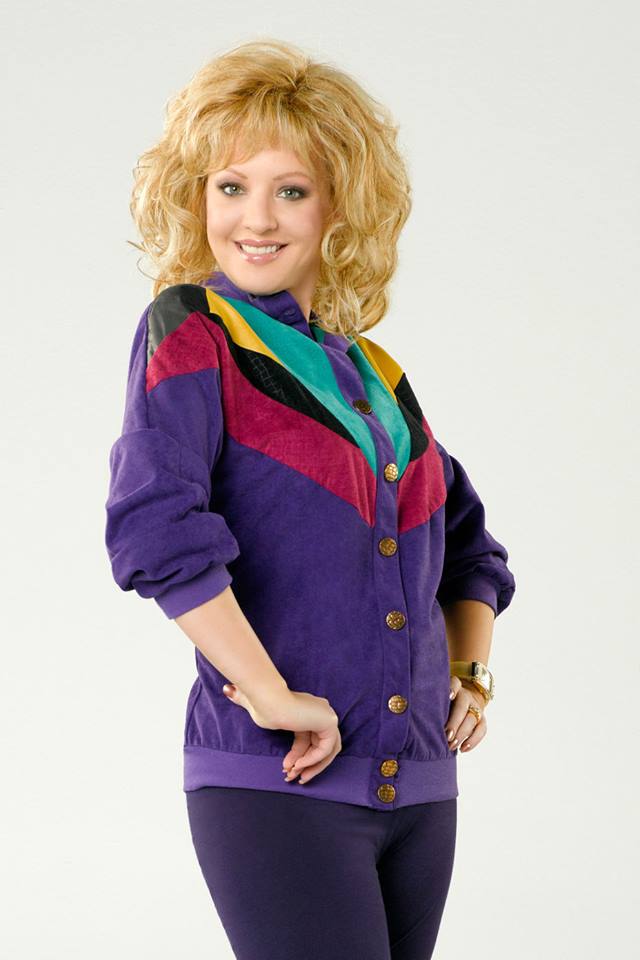 Tonight's premiere of the new ABC comedy The Goldbergs, a semi-autobiographical look at exec producer Adam F. Goldberg's childhood in the '80s, cannot come soon enough for star Wendi McLendon-Covey (Bridesmaids, Reno 911!), who plays the family's matriarch: "I try to keep it realistic, like, this is what a woman of that age in that era would've worn, and sometimes, the jumpsuits are a little bedazzled. I forget when I'm on the Sony lot that I'm dressed like that, and I go walking around in my wig and my jumpsuit, and the show hasn't aired yet, so no one knows who I am or what I'm doing there looking like that, and people look at me like, What is your problem? And I think, Oh, I forgot, I should've probably thrown a robe on or something. People throw shade at me," she tells EW, laughing. "It's very rude. It hurts my feelings. But we'll see who will have the last laugh accepting her Emmy — MEEEEE."
ENTERTAINMENT WEEKLY: Just from the promo, you can tell that your character, Beverly Goldberg, is a fan of guilt.
WENDI McLENDON-COVEY: I'm not saying it's the right thing to do, but it is effective. Moms throughout history have relied on that as a manipulation tool. So yes, my character does that a lot. She's the kind of person who probably really wanted to work but she didn't, she chose to have kids. So that house is her corporate office and her domain, and when you come in and try to make suggestions, that doesn't fly. You take her out of her routine, that doesn't fly. You mess with her kids — granted, she probably says things that are way worse to them — she's very, very protective. Biggest cheerleader and worst enemy.
What kind of direction has Adam given you about playing his mother?
We're trying to show how she really was and is without making her a caricature. We've actually had to sort of tone it down because no one would believe it. Some of the stories he's told me that I thought, "You're lying, you're full of it," I've confirmed them with his siblings. You always end up saying and doing such horrible things to your family, 'cause you know they're never going anywhere, and at some point, they're going to forgive you. She said some things to her kids that they will carry with them always. If we played that completely real, no one would watch the show. [Laughs] It would turn into American Horror Story. Gosh, I hope she doesn't find out about this interview. I haven't met her yet. But again, these were different times. My parents said some choice things to me, too, because everything was very raw back then. We didn't have Dr. Phil, we didn't have a whole lot of "dialoguing with your kids," "really listen to them." Back when I was growing up, it was like, "You're too young to know what you want. We're telling you what you want. It doesn't matter if you like it. And you are stupid. Just so you know." [Laughs] "Just so you don't get too proud of yourself, you are an idiot." My parents did the same thing, and you know, no hard feelings. [Shouting] But it's why I don't have children myself, okay? [Laughs]
Has the show made you think of things you'd rather not remember?
Acting as a mother to these kids [Sam Giambrone, Troy Gentile, and Hayley Orrantia], I can go right back to how I felt when I was trying to grow up and establish my own identity and my parents kept trying to thwart me at every turn. Pulling away from your parents, that's the natural thing to do, that's how life progresses. But now I feel like, Oh, that hurts my heart. Now I know how my mom felt, and yes, it makes me think about things I'd rather not think about. But it's mostly been a joy. I now feel like those kids are my kids. Working with Jeff [Garlin, who stars as dad Murray] and George [Segal, who plays grandpa "Pops" Solomon] is the biggest gift. So I'm thrilled to do anything, and all the nostalgia, that's just icing on the cake.
The Goldbergs premieres tonight at 9 p.m. ET on ABC. McLendon-Covey told us after the interview that her mother is hosting a premiere party to watch with friends.