Patrick Warburton and Megyn Price Interview
September 13 2012
/
Articles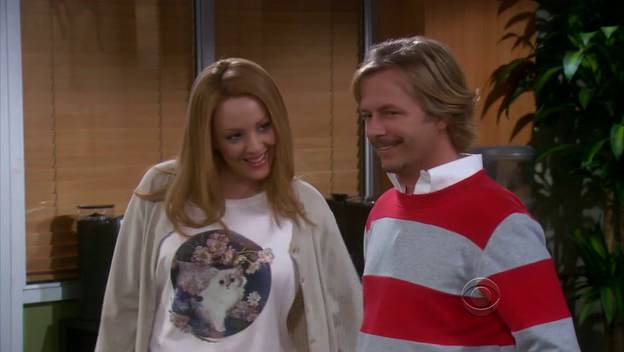 I've also heard that they're bringing Wendi McLendon-Covey back, and you guys will have some scenes with her. Are you looking forward to working with her again?
Price: I did a fashion show with her over the hiatus, which was the craziest — yeah, it was so insane. Tommy Hilfiger decided he wanted to have funny girls in his fashion show. So I'm thinking it's the weirdest thing I've ever done. So they're prepping me, da da da, and it was like a Top Model set-up where they have real models who are 10 feet tall and drinking champagne and haven't eaten since 1974 –
Warburton: That's hot, by the way.
Price: Yeah, it's really hot. It's really fun. So through the little crack in the mirror to the other side of the vanity I'm like, "Wendi?" And she's like, "Oh, come on." So they dress us in these insane outfits and we have to go like work the runway, not as models but as "funny models." They just wanted people who would entertain, so they gave me this tiger print dress so I growled and did the whole thing. And Wendi did this whole crazy-I'm-a-very-serious-model move. It was fun.
Warburton: I remember when you did that, I think. I remember I was talking to you and you were telling me what you were doing or something.
How different are the actual characters on the show from the people who play them, like Wendi?
Price: Wendi, I think Liz is definitely a side of her.
Like the crazy cat lady?
Price: Oh, yeah, she can embody that thing like nothing. She kind of likes, I think, to be a little bit of an isolationist a little bit, but she's not like that in real life.
Does she have cats?
Price: She does have a lot of cats. And then she does this weird thing where she looks like a cute, normal person and then she can put on this Liz face where then she's hideous. I don't know how she does it. Don't you think it's bizarre?
Warburton: And she's not afraid to do that.
Price: No. Her posture and everything — it's like instant.
Warburton: I'm excited she's coming back because I love her. I think she definitely brings a whole other character. She really does help build the show.
Price: Yeah, she's fun. I like being in scenes with her where I don't have to talk much, and I can just watch her because it's harder for me to squeak my lines out when I'm supposed to be acting like she's crazy and meanwhile I'm like, "I love watching this."